Episode 152: The Smoke (May 27, 2019)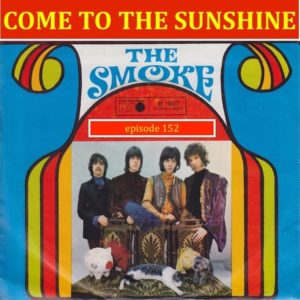 In an episode first aired May 27, 2019: DJ Andrew Sandoval spins the groovy sixties sounds of pop psych, folk rock, soft pop and melancholy magic from original 45's by: English Setters; The Robbs; The Concinnators; Lyme & Cybelle; Brincos; The Beauchemins; Phil Ochs; Johnny Cymbal; The Flock; Chapter V; The Joyride; Bonni Long; The MIrage; The Kitchen Cinq; The Loved Ones; The Milky Way; The Choir; The Lownly Crowde; The Lively Set; as well as Susie Klee.
In the Sunshine spotlight, The Smoke provide tough mod sounds, searing guitars, whimsical psych and lysergic lyricisms. Includes rare mono mixes unavailable elsewhere.