Episode #116: Anthony & the Imperials
Episode #116: Anthony & the Imperials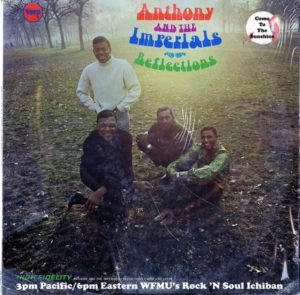 In an episode first aired on June 26, 2017, DJ Andrew Sandoval presents show #116 of his "Come To The Sunshine" series.
It features 45's from mono vinyl by: Bob Morrison; Mike Rabin & The Demons; The Leaves Of Grass; Tony Rivers and the Castaways; Barry Mann; The Majority; Don Lee Wilson; The Renaissance; Rick Nelson; The Tony Jackson Group; The New Wing Featuring DAVY PETERS & Music by The Sons Of Adam; The Loose Ends; Love Society; One; The Lime; Tom Northcott; Lords Of London; Chris McClure; San Francisco Earthquake; The Collection.
In part two, an artist spotlight on Anthony & The Imperials, sheds light on their post-1966 recordings (when they dropped the "Little" from their moniker and explored straight-up soft pop and even baroque sounds, ala the Left Banke with producer Teddy Randazzo). A fascinating glimpse into yet another 1950's artist making contemporary '60s music.